Geodatabase
The geodatabase is an accumulation of previously collected geological, geophysical and geotechnical information of the subsurface within our study area. We have accessed publicly available online resourses & databases and obtained geodata from local agencies and municipalities in the region (in accordance with data sharing agreements). Overall, geoinformation from 652 reports have been reviewed and extracted. From these reports, over 3500 unique locations of geoinformation have been compiled; including 75 shear wave velocity (Vs) profiles, 625 cone penetration tests (CPT), 33 seismic CPT (SCPT), 324 dynamic CPT (DCPT), and 196 standard penetration tests (SPT).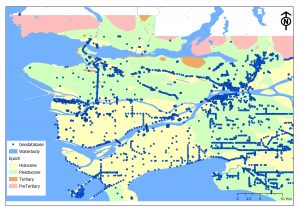 Example image of current geodatabase.
The purpose of the Geodatabase is to:
Capitalize on what has already been measured (to minimize cost).

Develop a 3D geological model for the study area.

Obtain material properties and their statistics per geologic unit in the region eg., Vs profiles per geologic unit.

Use these material properties to construct 1D, 2D and 3D earth models for shaking, liquefaction and landslide hazard modelling.

Assist in targeting particular areas of interest for field data collection in future.
The current geodatabase informs our next round of communication with data providers and an effort is still ongoing to obtain previous geo-data from agencies and municipalities, by 2022. How can you help?

Available online resources and databases accessed
Borehole Log Lithology Public View
Groundwater Wells and Aquifers in B.C.
Groundwater Level Data Interactive Map
Open Maps Data Viewer
Acknowledgements
Data provided by: City of Coquitlam, City of Delta, Village of Belcarra, Village of Anmore, NRCAN, UBC EERF, P. Monahan, Fortis BC, Translink, GeoPacific, City of Surrey, City of Vancouver, Anonymous, BC MoTI