Summary of geotechnical data collection
Communication with organizations to share available data for summer field campaign planning.
Met with several agencies in July 2018 to obtain data access.
A Western data sharing agreement was developed and shared with agencies upon request. Signed by Cities of Vancouver and Surrey.
There is an ongoing effort to obtain available geodata from agencies and municipalities.
Field data collection
Over 300 MHVSR measurements were performed at locations in a ~600×600 m grid across the region in July 2018.
Detailed processing and analysis is currently underway.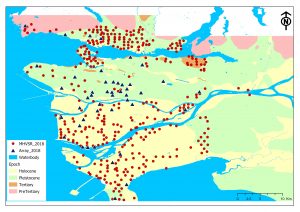 Locations of all 2018 field measurements